Overview
Welcome to the GMAO's Research Web Site
The Global Modeling and Assimilation Office (GMAO) is a component of the Earth Sciences Division in Goddard's Sciences and Exploration Directorate.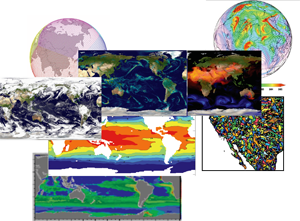 Our research and development activities aim to maximize the impact of satellite observations in climate, weather and atmospheric composition prediction using comprehensive global models and data assimilation. To achieve this goal, the GMAO develops models and assimilation systems for the atmosphere, ocean, and land surface, generates products to support NASA instrument teams and the NASA Earth science program, and undertakes scientific research to inform system development pathways.
What's New
GEOS-5 aerosol simulation in Science World
An article in a recent edition of Science World, a Classroom Magazine for Secondary Schools, describes GMAO's GEOS-5 aerosol transport simulation. View article.
Arctic Boreal Zone Workshop report available
The report from the NASA workshop on Earth System Modeling and Field Experiments in the Arctic Boreal Zone is now available with other materials from the workshop held at Goddard, May 22-24, 2012. View Report.
GEOS-5 dust forecasts now part of WMO Warning System
The near real time GEOS-5 dust forecasts are now included in the WMO Dust and Sand Storm Warning Advisory and Assessment System (WMO SDS-WAS).
Read More.
GMAO Support for the National Climate Assessment (NCA)
The GMAO is supporting the National Climate Assessment (NCA) by providing enabling tools of assimilated data sets that synthesize and integrate the existing satellite (and conventional) data streams for the EOS/Aura period. As an initial contribution, regional and sector-specific products have been derived from MERRA and are available from our NCA web page. Our plan is to develop products from an ongoing climate analysis using GMAO's integrated assimilation systems that will enable an on-going, permanent assessment capacity and capability.
Read more about GMAO's NCA efforts.
Research Highlights
Hot Topics
* Decadal Prediction with GEOS-5 *
GEOS-5 Decadal Predictions for CMIP5 have been released at the PCMDI Earth System Grid. More information can be found at our Climate Diagnostics & Prediction web page.
* Latest Public Release of GEOS-5 *
A new release of GEOS-5, the Fortuna 2.5 version, is now publicly available through the NASA Open Source Agreement (NOSA). With this release, GMAO has updated our release mechanism, with access provided through an externally accessible Subversion Software Repository. Registration is required.
See our GEOS-5 access page for the details.
The NASA TM—2012-104606-Vol28 describes the evolution from the version of GEOS-5 used for MERRA to the Fortuna version that is the latest public release. It also provides an evaluation of the Fortuna version by comparison with observations.
Explore the MERRA Atlas.
* MERRA Input
Data Catalog Available *
The MERRA input data catalog allows the user to browse the observations used during any analysis cycle. Several views of the observations are provided, including time series of observation-minus-forecast and analysis departure statistics.
Go to the MERRA input data catalog web page.