GEOS Featured at the Supercomputing 22 (SC22) Conference
12.8.2022
NASA's Global Modeling and Assimilation Office (GMAO) made a big splash at the NASA Exhibitors' booth in November at the Supercomputing conference in Dallas, Texas. Christopher Kung and Purnendu Chakraborty presented on Domain-Specific Language Adoption into NASA's GEOS Model Code, Megan Damon presented on Forecasting Air Pollution using the GEOS Model, and Bill Putman presented on Digital Twins.
NASA SC22 team on Monday, November 14th 2022.
GMAO SC22 attendees from Left to right: Purnendu Chakraborty, Christopher Kung, Megan Damon, and Bill Putman.
Photo Credit: James C. Kling (606.2), NASA
The presentations were 20-30 minutes and involved the use of traditional monitors, as well as high-resolution visualizations on the Hyperwall. These presentations drew in many Supercomputing attendees, as well as led to several media interviews. Bill and Dan Duffy from the NCCS were interviewed by SiliconANGLE the CUBE. That interview can be watched on YouTube: https://www.youtube.com/watch?v=MWkGYewOkvo.
Megan was interviewed by Allyson Klein from the TechArena. That podcast can be listened to on SOUNDCLOUD: The interview can be viewed by clicking this link.
Megan Damon presenting GEOS aerosol visualizations during the 2019-20 Australian bushfire season
Photo Credit: James C. Kling (606.2), NASA
Bill Putman presenting on JEDI and GEOS
Photo Credit: James C. Kling (606.2), NASA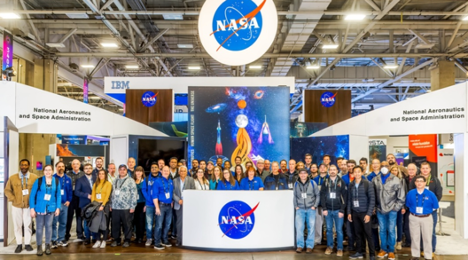 NASA SC22 team on Monday, November 14th 2022
Photo Credit: James C. Kling (606.2), NASA