Contract Staff Members Receive Performance Awards
12.17.2019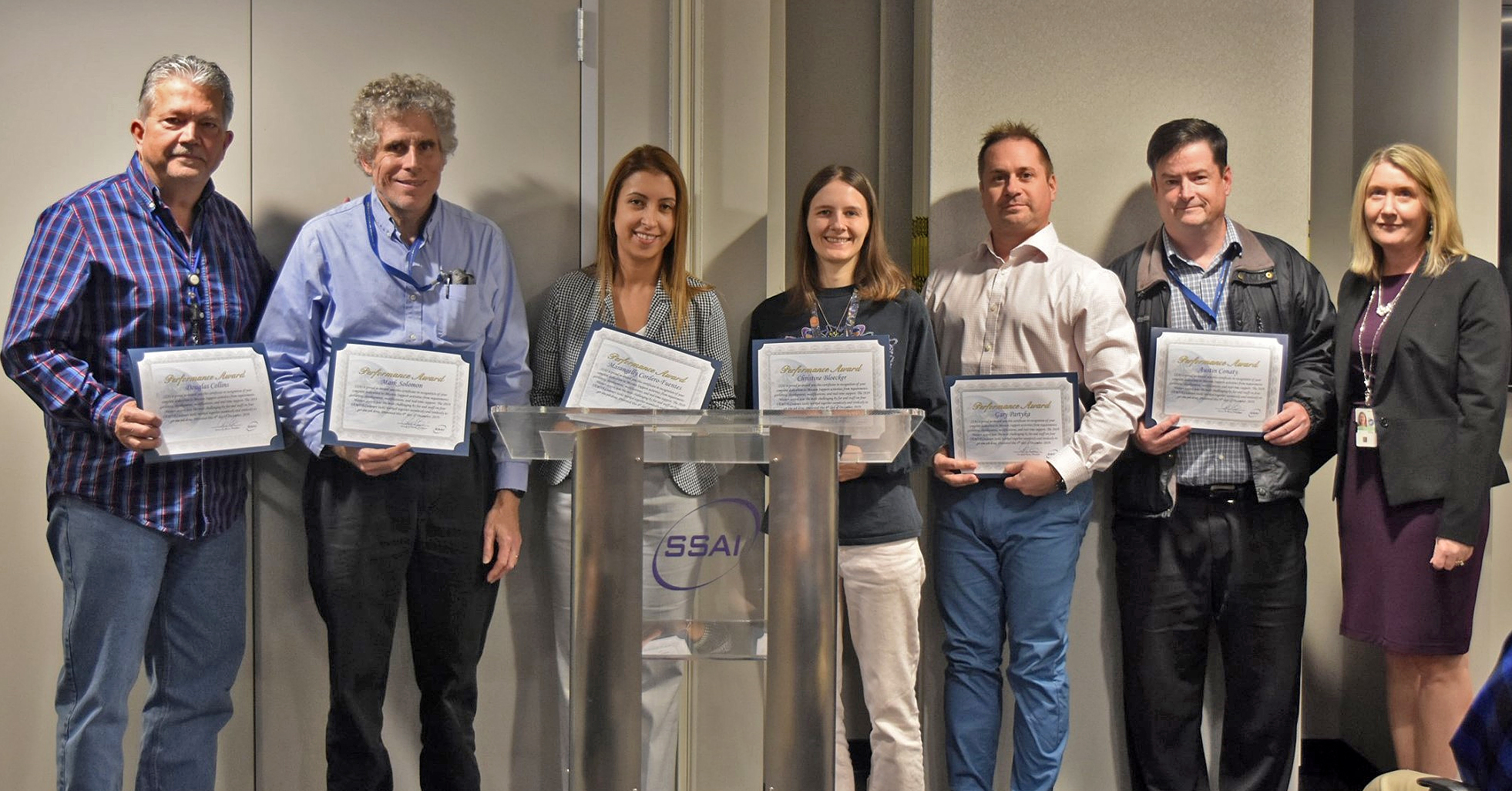 SSAI, Inc. gave special recognition to several of its GMAO team members at a ceremony held on Wednesday, December 4, 2019. Congratulations to all!
Austin Conaty, Gary Partyka, Marangelly Cordero-Fuentes, Christine Bloecker, Brent Smith, Joe Ardizzone, Rob Lucchesi, Doug Collins, and Mark Solomon: In recognition of their complete dedication to Mission Support activities from requirements gathering, development, modifications, and real-time support. The 2019 Mission season was the most challenging by far and staff on four SAMDA Contract tasks worked together seamlessly and tirelessly to get the job done.
Scott Rabenhorst: In recognition of his establishment of new standards and vigilance in maintaining the integrity of the GEOS Development branch, which has led to being named the Gatekeeper for the GEOS AGCM Model within the new GIT framework.
Larry Coy: In recognition of his valuable contribution to the advancement of science as demonstrated in his recent article on the 2018 Antarctic Ozone Hole in State of the Climate in 2018, Bulletin of the American Meteorological Society.
Kris Wargan: In recognition of his contributions to the Ozone Monitoring Instrument (OMI) International Team that received the prestigious William T. Pecora Award from the Department of the Interior and the National Aeronautics and Space Administration. The Pecora Award cited "sustained team innovation and international collaboration to produce daily global satellite data that revolutionized air quality, stratospheric chemistry, and climate research".
Sterling Spangler: In recognition of his receipt of a SHIELD (Service, Honor, Integrity, Excellence, Leadership, and Dedication) Award from Anti-Defamation League. The award was given to the D.C. Metropolitan Police Department's Special Liaison Branch (SLB) in recognition of the SLB's efforts supporting community policing with under-served communities, combating bias-related crimes, and ensuring those most frequently targeted receive prompt, respectful, dignified, and culturally competent police and support services.