When in Rome: The GMAO Participates in the 5th International Conference on Reanalysis
12.07.2017
The members of the GMAO that attended ICR5 under an orange tree in the courtyard of the Largo Angelicum, where the conference was held. (Photo Credit: Thomas Collow)
One of major themes at the GMAO is "reanalysis", a long-term, model-based analysis of multiple observational datasets using a fixed data assimilation system.
This was the focus of the 5th International Conference on Reanalysis (ICR5) held in Rome, Italy between November 13 and 17, 2017. The GMAO was well represented at the conference with nine attendees (seen in the photo below), six oral presentations, 10 poster presentations, a member of the scientific organizing committee, and a representative in the panel discussion. Five was the magic number for the conference in general, as five topics were discussed over the course of five days at the fifth installment of the International Conference on Reanalysis.
ICR5 was organized into sessions on "Status and Plans for Future Reanalyses," "Observations for Reanalyses," "Methods for Reanalyses," "Evaluation and Intercomparison of Reanalyses," and "Applications of Reanalyses." GMAO had at least one presentation in each of the sessions. Surrounded by experts in the field, not to mention artistic and architectural masterpieces, ICR5 proved an ideal venue to not only share the work being done at the GMAO but to work on our vision for where we would like to go with reanalyses in the future.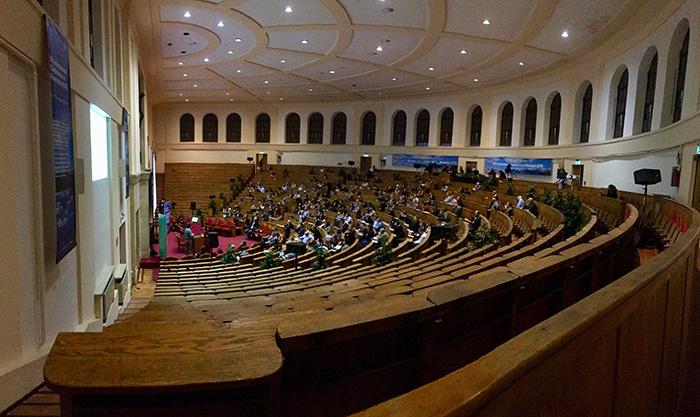 Status and Plans for Future Reanalyses

(Session Chaired by Mike Bosilovich)
Ron Gelaro gave a talk entitled "Status and plans for reanalysis at the NASA Global Modeling and Assimilation Office" in which he shared the evolution of GEOS leading to the inclusion of more components of the Earth System in MERRA-2. He also gave an overview of how the GMAO is moving forward towards a coupled atmosphere-ocean reanalysis in the next years. Ron also discussed aspects of GEOS that the GMAO has been working on since MERRA-2 went into production including an atmospheric composition forecast and the NASA Ocean Biogeochemical Model.
Observations for Reanalyses
Mike Bosilovich presented the poster "Development of Gridded Innovations and Observations supplement to MERRA-2." Mike's poster showed preliminary results from a gridded data set depicting the observations that were assimilated into MERRA-2, as well as important statistics surrounding the data. Such a data set has the potential to help understand the model and the quality of the reanalysis. Mike shared specific examples for the Special Sensor Microwave Imager (SSMI) wind, aircraft, and radiosonde data that were assimilated into MERRA-2.
Mohar Chattopadhyay presented the poster "The effective use of scatterometer winds in current and future GMAO reanalysis," in which she shared results from assimilating ocean wind vectors from RapidScat. Mohar showed that RapidScat data compares well with collocated ASCAT data, though the bias between the two datasets depends on wind speed. The preprocessing and superobbing methods for RapidScat were developed internally and were not consistent with historical scatterometer datasets, however a unified preprocessing methodology will improve consistency and allow for easier integration of new datasets.
Steven Pawson presented the poster "Towards a Representation of Vertically Resolved Ozone Changes in Reanalyses." Observations of ozone are not consistent in space or time, especially for vertical profiles of ozone, which makes it a challenge to study the decline and recovery in stratospheric ozone over the last 30 years. Steven shared results highlighting the benefits of assimilating satellite retrievals of ozone profiles in addition to observations of total column ozone.
Methods for Reanalyses
Amal El Akkraoui presented "Using hybrid data assimilation for reanalyses" in which she discussed a data assimilation experiment that compared a form of hybrid data assimilation for the years 1983 and 2016. It was pointed out that due to the differences in the observing system, instability builds up in the ensemble spread in 1983; however, the ensemble remains stable in 2016, where there are many more satellite observations available to constrain the system. The main conclusion of Amal's presentation is that considering the long time-period of a reanalysis, undesirable instabilities can result from small additive unconstrained terms. This can be mitigated through stochastic physics based perturbations.
"A Method for Snow Reanalysis: The Sierra Nevada (USA)" was presented by Manuela Girotto. Manuela stressed the need for an accurate estimate for snow water equivalent, a quantity that is often underestimated by reanalyses. A viable solution to this is to retrospectively assimilate the depletion of the fractional snow-covered area with a smoothing approach. Manuela gave an example of such an assimilation over the Sierra Nevada in California and the results showed good agreement between observed and estimated snow water equivalent.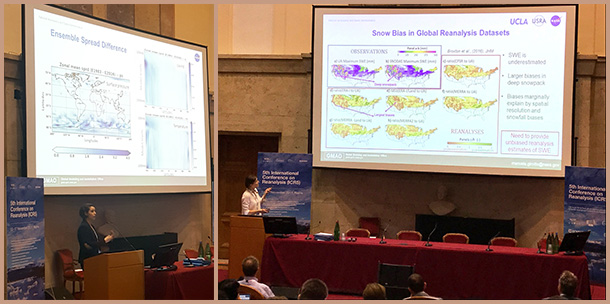 Evaluation and Intercomparison of Reanalyses
In "Land surface precipitation and hydrology in MERRA-2," Rolf Reichle discussed the observation corrected precipitation that was used in MERRA-2, which agrees well with GPCPv2.2 precipitation in well observed areas and is better than the model generated precipitation. Rolf also shared the impacts of changes in observing systems, particularly rain gauges. From a land surface hydrology perspective, it was shown that terrestrial water storage in MERRA-2 is more comparable to observations from GRACE than MERRA and MERRA-Land, however soil moisture skill is on par with MERRA-Land. In addition, Rolf presented a poster in the same session on "Assessment of MERRA-2 Land Surface Energy Flux Estimates".
Mike Bosilovich presented two posters in this session, "Tropical Energy Variability in MERRA-2 and M2AMIP" and "WCRP Task team for the Intercomparison of ReAnalyses (TIRA): Motivation and Progress". In his poster on tropical energy variability, Mike connected the variability in tropical sea surface temperatures, particularly related to El Niño, to temperatures over the continents, identifying processes that contribute to the lagged redistribution of heat. Mike has also been involved in TIRA, a collaborative effort to systematically assess and intercompare reanalyses, and shared the mission of the group through his poster.
A poster was presented by Allie Collow on "An Intercomparison of Changes Associated with Earth's Lower Tropospheric Temperature Using Traditional and AMIP-style Reanalyses." Allie investigated the role of varying boundary conditions on the time series of near surface temperature in the Arctic and Northern Hemisphere Mid-latitudes in the MERRA-2 atmospheric model. Prescribed sea surface temperature and sea ice conditions in MERRA-2 result in near surface temperatures in the Arctic that are too warm and this is mitigated in MERRA-2 through the assimilation of observations. Allie also showed the implications of varying equator to pole temperature gradients on the atmospheric circulation.
Emma Knowland presented the poster "Influence of mid-latitude cyclones on European background surface ozone investigated in observations and multiple reanalyses," in which she compared the relationship between springtime ozone at two rural monitoring sites on the west coast of Europe and mid-latitude cyclones identified in MERRA-2, ERA-Interim, and the Monitoring Atmospheric Composition and Climate (MACC) reanalyses. Using MERRA-2 and MACC, both combined meteorology and ozone reanalysis data sets, Emma demonstrated how mid-latitude cyclones can increase the surface concentration of ozone.
While Richard Cullather and Krzysztof Wargan did not attend the conference, their posters still made their way to Europe. Richard's poster was titled "Understanding Arctic Surface Temperature Differences in Reanalyses", and presented an evaluation of temperature separated by glaciated land, unglaciated terrestrial surface, and sea ice/ocean over the Arctic. Krzysztof's poster was on the "Evaluation of Ozone Fields in NASA's MERRA-2 Reanalysis" and compared the analyzed ozone to independent satellite and ozonesonde data, showing agreement within 10% in the stratosphere. More agreement is in seen after 2004 when higher resolution Aura data are assimilated.
Applications of Reanalyses
Allie Collow presented "Classification of Meteorological Influences Surrounding Extreme Precipitation Events in the United States using the MERRA-2 Reanalysis", in which she shared two objective techniques to determine the meteorological cause behind extreme precipitation events: feature tracking and self-organizing maps. An example was given for each technique for the Northeastern United States where extreme precipitation events have become more frequent over the past two decades.
Emma Knowland gave an oral presentation on "Stratospheric intrusion-influenced ozone air quality exceedances investigated in the NASA MERRA-2 Reanalysis". In her presentation, Emma described how MERRA-2 can be used to study stratospheric intrusions, or the mixing of stratospheric air into the troposphere through a tropopause fold, which can be associated with abnormally high levels of ozone at the surface. Although MERRA-2 tends to underestimate the magnitude of surface ozone, the combination of meteorological variables and ozone makes MERRA 2 a valuable data set for air quality managers.